CAMPUS DORMITORY
The CAMPUS DORMITORY provides accommodation for students admitted to the University of Nyíregyháza as well as Stipendium Hungaricum (SH) and Diaszpóra Higher Education (DFP) Scholarship Program holders.
Room type: Normal, lower comfort level rooms, 2+2 beds, 2+ 3 beds. All rooms have Internet and a fridge. Between the two rooms, there is a shared shower and a sink. The kitchen and the toilets (man and women) shared with the residents of the floor and can be found in the corridor. All kitchens have microwave and hot plates.
In the basement of the building, there is a laundry (devices work with coins) and ironing room for the residents of the dormitory.
In addition, the following services are available to our students: food store, beauty salon, 24-hour security, doctor's office, restaurant and sport facilities.
The accommodation is provided on the basis of a prior request, the request must be sent to the International Relations Office. 
Regulations related to dormitory accomodation:
- Rules of Operations of Campus Dormitory Click here to download
- Campus Dormitory Rules Click here to download
- Fire protection Safety Instructions Click here to download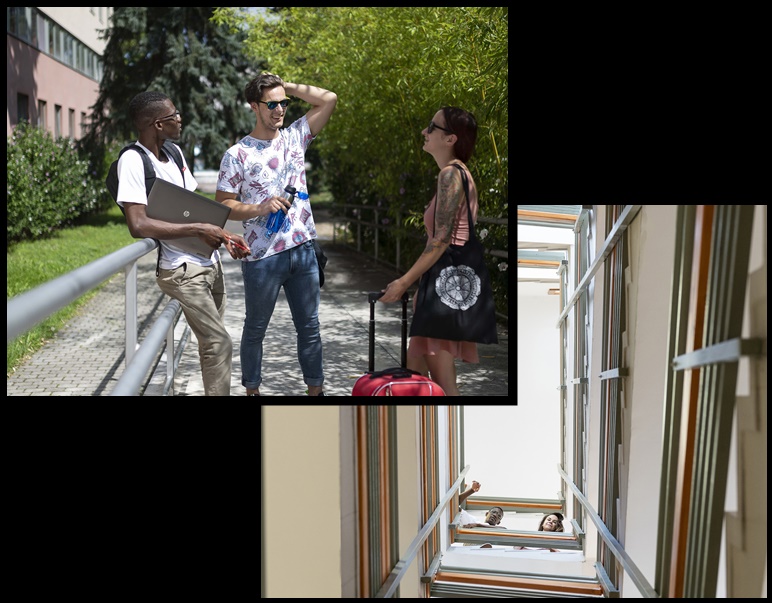 ---
The BESSENYEI HOTEL is located in a accessible part of Nyíregyháza on the campus of the University of Nyíregyháza.
Our hotel can accommodate up to 102 people: individual guests, families as well as groups.
Our 2 + 2 bed apartment rooms have a shared shower and a toilet. In the hall of the apartment, there is a kitchenette with a fridge, an extractor fan and a hotplate (There is no cookware.).
Each room has a TV set and free Internet access.
Our central location is within easy reach of the attractions of the area .
More information about our hotel can be found at www.bessenyeihotel.hu.
We welcome our dear Guests.
---
Hotel Sandra Youth Hostel
The Erasmus+ exchange students arriving to University of Nyíregyháza are provided accommodation in the Hotel Sandra youth hostel, located in the University's campus area. The dormitory is also open to other international students and guests.
The hotel has 184 rooms with 2 beds, 8 apartment rooms with 3 beds and 18 rooms with 2 beds. The apartments have a kitchenette and a bathroom, while the standard rooms have a bathroom and a shared kitchen on each floor. All rooms are equipped with direct internet connection, telephone and cable TV. The Hotel can accommodate 428 people at a time.
The following services are provided additionally for the comfort of our guests:
•    24-hour reception
•    Convenience store 
•    Student Restaurant
•    Gym
•    Laundry service
•    Parking Lot service
The University's swimming pool, arboretum and sports centre are also directly connected to the hotel. 
Further information is provided by the Hotel Sandra's own website:
WEBSITE