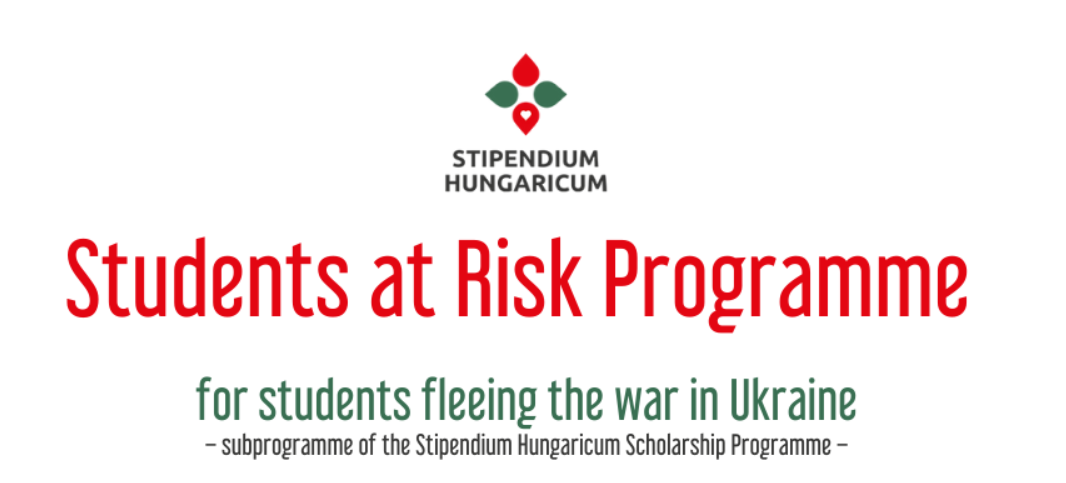 Application for the Students at Risk Subprogramme for the academic year of 2023/2024 is now open till 10 May! The online application system can be accessed at https://apply.stipendiumhungaricum.hu/.
Call for Applications for the academic year 2023/2024 is available: 
https://stipendiumhungaricum.hu/uploads/2020/03/Students_at_Risk_Call_for_Application_2023_2024.pdf
Students at Risk Programme for students fleeing the war in Ukraine – subprogramme of the Stipendium Hungaricum Scholarship Programme – The Tempus Public Foundation started the Students at Risk Program in 2022 (as a sub-programme of the Stipendium Hungaricum scholarship), which is specifically designed for persons from Ukraine who are studying in higher education, in order to enable them to start and/or continue their studies in the Hungarian higher education system.
Hungarian governmental program developed for students studying in full-time programmes.
It covers tuition fees for the programme which the student gets admitted to, for the full duration of the programme.
It grants a monthly stipend and housing allowance which both are transferred on a monthly basis.
As a guest student, you can receive the stipend and a housing allowance once you are admitted to the program and the Tempus Public Foundation granted you the Scholarship.
With this scholarship, you are entitled to use the Hungarian Social Securtiy and private insurance.
NOTE:Hungarian citizens and persons with dual citizenship (Hungarian included) cannot apply for this specific scholarship.
Any question should arise, please do no hesitate  to contact us via e-mail on: admission@nye.hu